AfterbirtherWatch: You're Dead to Us, O'Reilly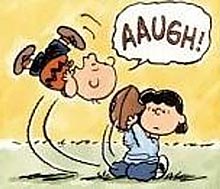 You have to understand, this was supposed to be WorldNetDaily's moment. They've been pimping the birther issue all year, and today, on Barack Obama's 48th birthday, they're releasing a DVD that reveals everything.
Just as everyone is laughing at them.
And by everyone, we don't mean the Usual Suspects like, um, us. We mean their fellow wingnuts, on Fox, at National Review, at Free Republic. The WND-promoted Orly Taitz certificate forgery was such a howler, everyone's in on the gag.
Even Glenn Beck. "The birther thing, what are you going to do," he told his radio audience Monday. "Even if it was true, what, are you going to take him out of office? You can't do that."
And just to twist the knife: "There's so many things that are going on that are not on the fringes, not conspiratorial."
But WND barely had a moment to pout at Beck yesterday, since it was fuming at Bill O'Reilly for dangling an interview invite at WND Editor Joseph Farah, then viciously yanking it away. Hang on, folks, we're running this long:
O'Reilly producer Ron Mitchell contacted Farah Sunday night asking if he could be on the program tonight. Farah replied that he was available and that details could be worked out with his publicist, Maria Sliwa.

In turn, Sliwa presented Mitchell with a short list of criteria for Farah's appearance:

Though a sober and civil discourse is always welcome, shouting is not;
No other guests on during the segment with Mr. Farah;
Discussion to be limited to the facts of the story;
Accurate, approved description of Mr. Farah and news organization he represents;
Screen ID chyron to be approved by Mr. Farah.

In turn, Mitchell replied that he would have to "discuss his requests with Bill."

Two hours later, the reply from Mitchell came back: "I'm afraid that is not going to work for us."
And they didn't even get around to removing the brown M&Ms from the green room.
The FACTOR DISS! (extra S theirs) sparked yet another WND poll, where leading the pack late Monday night was this choice: "O'Reilly, Glenn Beck and Shep Smith have all dissed this issue now. I'm fed up with Fox News."
(And our favorite WND reader comment: "The real reason is that the FOX folks are really just another bunch of media liberals with big mouths and no backbones.")
The depths of our fascination with this Wingnut Schism remain unplumbed: The lemmings are going rogue, and there's nothing their cynical elites can do about it.
Add a Comment
Please
log in
to post a comment