Beer Goggles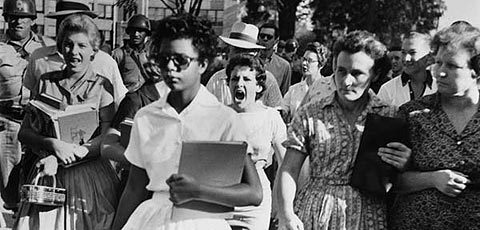 We wish we could be all witty about the Beer Summit, but six months into the Obama Presidency, we fear that something ugly has emerged from the rock it's been hiding under. It's Jeff Sessions calling Sonia Sotomayor a racist. It's Glenn Beck calling Obama a racist. It's people in positions of authority and influence not calling them on it, for fear of — what? Disturbing the peace?
Have you seen the face of hate? Happily, we haven't, not personally — only in pictures we grew up with, as a child in the Sixties and a teenager in the Seventies. Iconic images, many of moments we literally lived through, but seemed a distant past by the time we came to consciousness.
We're not stupid. Social manners may have improved, but we knew the feelings were still there — just a few days ago we called it "racism by other means". At least folks had to be somewhat polite about it, which was something of an improvement.
Now we're not so sure. The political histrionics we've seen this year — and, frankly, enjoyed — sound increasingly like cascading howls of desperation. Glenn Beck may be an opportunistic creep, but his shtick wouldn't play unless there was an audience for it. Like Sarah Palin at her rallies last fall, Beck and his kind are picking at a very dangerous scab. And if they succeed, the blood that flows will not be metaphorical.
It's still very early. Like teabagging, like the Birther Bubble, this too may play itself out. But so far, every development has been worse than the last. Which makes us very wary of what comes next.
Add a Comment
Please
log in
to post a comment