Gullyvornia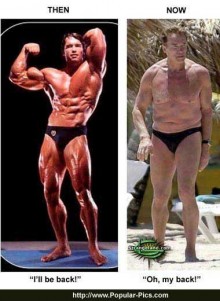 Atrios reminds us that, in the not so distant past, the Villagers thought Ahhhnold was the best politican EVAR. Maybe they should check in with the citizens of California to see how things are working out:
A new PPIC Poll in California shows Gov. Arnold Schwarzenegger's (R) job approval rating dropped to a new low of 28%.

The last time a California governor's approval rating was that low was in 2003 when then-Gov. Gray Davis faced a recall election and was in a budget standoff with the Legislature.
Oh my. That does not sound good. But remember the good ol' days, when guys like Richard Cohen were coming in their pants for Arnold?
'When the spotlight hit Schwarzenegger, he performed magnificently,' gushed Richard Cohen in the Washington Post last week. The veteran columnist actually said that after watching a Biography-channel piece on the movie-star-turned-governor on election night, he 'can't help liking the guy,' even though he disagrees with 'some of his policies.'

Schwarzenegger's treatment of women, as described by those who came forward to the L.A. Times, is now described by Cohen, who fancies himself a liberal, as merely 'boorish' behavior. That's not a far cry from what most conservatives said, having endlessly railed against Bill Clinton's supposed depravity for engaging in consensual oral sex, while now excusing Arnie's workplace sexual harassment and abuse, dismissing it with a 'boys will be boys' grin.
Yeah, what's a slap on the ass when you've got a big state to run?!
Liberal pundits like Richard Cohen, meanwhile, are even saying that Arnie's win should teach Democrats to 'learn the virtue of his moderation,' and to start to compromise on issues like abortion, observing that 'late term abortion' is 'unsettling.'
Man, those were the days. Of course, back then nobody could have predicted that a mediocre action/adventure actor would trash the place.  Nobody.
Add a Comment
Please
log in
to post a comment