Trojan Stallions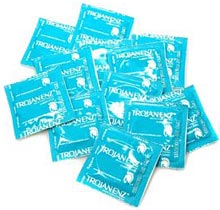 Okay, let's clear this up:
The nation's wild horses would be protected from slaughter and given millions more acres to roam under legislation moving toward passage today [Friday] in the House of Representatives.

Supporters of the bill mobilized after the Interior Department announced last year that it may have to kill thousands of healthy wild horses and burros to cull the herds and prevent overgrazing.
It's called the "Restore Our American Mustangs act" (insert Ford joke here), and the CBO estimates the price at $200 million over five years, plus another $500 million to buy 20 million acres of land after 2013. The AP story estimates 36,000 wild horses and burros are affected.
So: Whether to spend that kind of money on that purpose is an honest question. But where do the pony rubbers come in?
Near as we can tell — and we're not spending much time on this — Powerline's John Hinderaker gets the credit, via Mark Steyn at NRO:
In order to prevent the mustang population doubling again by 2013 and requiring the annexation of another 50 million acres (ie, an area the size of Ireland, Denmark, Belgium, and the Netherlands combined), the bill mandates "enhanced" contraception for horses and burros.

John Hinderaker of the Powerline website mused on whether this would involve Nancy Pelosi (who's very keen on federally funded contraception) personally installing the enhanced prophylactic device on every stallion. The pay-per-view rights on that would surely be worth $700 million at least.
We suspect there's more than a bit of silly "volcano monitoring" to all this, but we have to go slop the pigs.
The Gelded Age [NRO]
Add a Comment
Please
log in
to post a comment