A Short Time From Now in a Convention Center About Ten Minutes From Here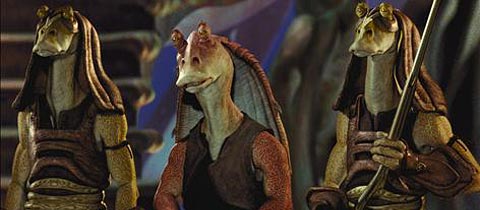 It's Star Wars Day at Comic-Con, the annual Sandy Eggo geekfest we've managed to avoid for seven years now, despite the fact we found ourself in the neighborhood the other night, amidst street banners for James Cameron's upcoming epic disappointment.
But since we don't want to talk about Skip Gates and the Legion of Doom, we've discovered instead a controversy that cuts even deeper than our nation's not-yet-post-racial divide: an interstellar gap between fans of the original trilogy and deluded souls who prefer the simulacrum of storytelling manifested in the later abominations.
Which we've learned is a fancy way of saying that we've entered the Geezer Galaxy:
The older films "are OK, but they dress funny," [Amy Aldanado, 13] says of the then-futuristic duds of Luke Skywalker and Han Solo. "People that hate on (the new films) just don't like that they're getting old."
Look, missy, we've been hating on Return of the Jedi since it came out, so it's not like we didn't have a running start. And nothing foretold the dismal future better than Willow, which we suggest you avoid unless you want to grow up too soon.
So we're not going to be joining the can't-we-all-get-along movement promoted by the likes of artist Jerry Vanderstelt, who "displays a drawing of a young Vader light-sabering his way through Princess Leia's ship, a scene found neither in the new nor old trilogies." That smells of fanfic to us, and you're not going to find us wandering down uncanonical dark alleys. You deranged wankers disgust us, and you make Yoda Pez weep.
Add a Comment
Please
log in
to post a comment