GOP Sex Scandal Update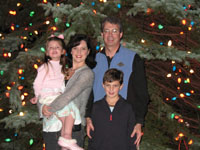 Remember that state senator from Tennessee who got caught schtupping his 22-year-old intern?  In the immortal words of the late Billy Mays – "BUT WAIT, THERE'S MORE!
Late Update: It gets worse. In 1994, [Paul] Stanley's first wife, Judy Martin, filed for a restraining order against him, charging that he had physically assaulted her three times. She wrote: "He was going out the door to leave our house and he hit me with a tremendous blow and then he proceeded to turn and run away from me outside the garage to the street." Stanley and Martin divorced the following year.

According to the Nashville Post, Stanley met his current wife, Kristi Stanley, soon afterwards, while both were working for Bill Frist's U.S. Senate office in Memphis. She was working as — an intern.
He'll make a great addition to the C Street house, don't you agree?
And check out his website – it's douchetastic.
Add a Comment
Please
log in
to post a comment