Honest Inquiry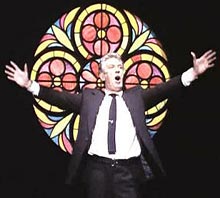 With the talk of Uncle Walter continuing apace, amid the loony rantings of Freepers and the decent and honorable memorials elsewhere, there has been — perhaps — a well-judged critique, in this Guardian obituary:
Astonishingly, no one thought to question the phrase that became his professional trade mark, intoned at the end of each nightly bulletin: "And that's the way it is."  That, in fact, was simply the way it appeared to Cronkite. As one of the founding fathers of America's network television news and as managing editor of the CBS evening news for 19 years, his evaluation of world events helped shape his country's electronic reporting into the extraordinarily insular and inadequate chronicle it has become. That, in turn, opened the door to Rupert Murdoch's current brand of unashamedly partisan news coverage.

During Cronkite's reign, the standard television bulletin, from which most Americans drew their picture of the world, lasted for 22 minutes. The consequent pressure to condense or omit means that events in vast tracts of the globe remained unknown across the world's most powerful nation. For all Cronkite's insistence that he was a reporter rather than a front man, there was little evidence that he tried to inculcate a mission to inform at CBS. The prevailing philosophy was, and remains, to offer all the news that fits. With no national press to fill the gap, it has meant that for generations of Americans the broad sweep of foreign policy has wavered on tides of popular ignorance.
Surely, the history of TV news in America, and its faults, do not solely lie at the feet of Cronkite.  Commercialism in media — sex and sensationalism sells — takes that honor.  And he did some unquestioned good in his time — notably with his frank assessment on Vietnam.  But the question comes: is he blameless?
Add a Comment
Please
log in
to post a comment