Ken Layne, Warblogger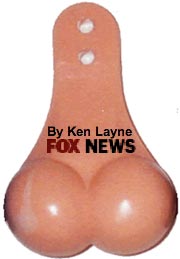 Because we take pride in ignoring things until absolutely unavoidable, we had no idea that Wonkette desecrator Ken Layne existed before showing up at Sploid, Gawker Media's brief foray into Drudge-abatement. And hey, we liked him there. Heck, we even liked him at Brand W, before he fired Megan, and then we hated him. But that was before Megan hated us. Long story.
And we would have remained ignorant of Ken's Dark Past had we not stumbled across a reference to predictions for 2003 from the likes of Little Green Footballs, Instapundit, and assorted other wingnuts.
Or, to use the jargon of the day: warbloggers.
Let's enjoy a few of Ken's predictions:
Will there be a war with Iraq before the end of March of 2003? No.
If we go into Iraq, how many casualties do you expect to see (on the side of the US and our allies): "a few hundred"
Osama Bin Laden — do you believe he's still alive? No.
Pick the candidate who will receive the Democratic nomination from President? (Ok, we won't know this for sure until 2004, but what the heck). Howard Dean.
It's that casualty prediction that brought the list to recent attention — of the ten warbloggers responding, all but one called it at 300 or less. And alas, there's no question asking whether anyone thinks the war will last six years or more.
But just seeing Ken's name on the list is jolting. We figured him for an iconoclast, but we didn't expect to discover his columns at the Fox News website:
The war isn't over, of course. But allegedly corrupt French figure skating judges have replaced military tribunals as the judicial scandal of choice. The prisoners at Guantanamo Bay get three squares a day, top medical care, a Muslim chaplain from the U.S. Navy and cigarettes and hugs from the Red Cross. Will their final judgment be issued by the International Skating Union?
That would be February 19, 2002. Six weeks earlier, John Yoo signed off on denying Gitmo prisoners habeas and POW rights. A third Pentagon request, directed elsewhere, would explore the means to torture them.
Not that Ken could have known back then. But we would have hoped he was less gullible.
Ken Layne column archive [Fox News]
Add a Comment
Please
log in
to post a comment