Wingnut of the Day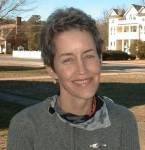 Teabagger and insane person Catherine Crabill:
"We have the chance to fight this battle at the ballot box before we have to resort to the bullet box…That's the beauty of our 2nd Amendment rights," Catherine Crabill, the GOP nominee for Delegate in Virginia's 99th District said Wednesday, as the video posted by the blog shows.

Crabill adds, "Our 2nd Amendment right was to guard against tyranny."

Huffington Post notes, "Crabill, who proclaims on her campaign website that "America was founded by right-wing extremists," has already drawn fire for her controversial views. Among other things, she believes the U.S. government played a role in the Oklahoma City Bombing."
One black man makes them this crazy. It's gonna be a long eight years.
Add a Comment
Please
log in
to post a comment