NYC Agoniste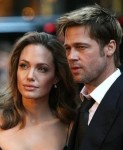 It's not often that I bitch about my place of residence, the Upper West Side, but today is an exception.  Which is worse?
After crying poverty for months, Mayor Bloomberg authorized fat raises Friday for 6,692 of his managers and nonunion employees, worth $69 million over two years.

The raises, which will cover virtually all his City Hall staffers, but not himself, will match those given to District Council 37, the city's largest municipal union.

There will be a 4% raise retroactive to March 3 of last year, and a compounded 4% raise – or 4.16% – retroactive to March 3 of this year.
Or this?
Brad Pitt and Angelina Jolie may be looking to buy in Manhattan.

We hear the star couple has been quietly checking out the Apthorp, the century-old upper West Side landmark that's undergoing a condo conversion.
The Apthorp is four blocks from my building. The horror …. I should probably be glad to pay for Bloomberg's bonuses, but can't I have a Brangelina-free-zone in exchange?
Add a Comment
Please
log in
to post a comment