PROGRAMS! Gitcher Programs Here!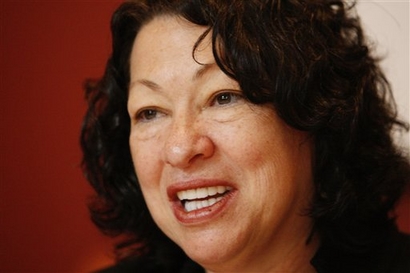 Well, the Sotomayor hearings start tomorrow.  For those of you dear readers who have yet to scan the list of actors to search for the man or woman who is most likely to bring the crazy, we present the following viewer's guide.
But also: if you are having trouble heckling at a moment of great stupidity, from home or office, we — as a service to you — have included some helpful suggestions.
And now… introducing… the key players in the drama that is to unfold.
Pat Leahy (D-Vt.) — He paid the costs to be boss of this crew.  Former district attorney for Burlington.  An extra in The Dark Knight.  Fan of the Grateful Dead. Dirty hippie.
Jeff Sessions (R-Ala.) — Ranking member.  Was on the business end of the Judiciary Committee when Reagan gave him a nomination, when it was revealed that he wasn't exactly the biggest fan of the NAACP and the ACLU.  Has not performed much better since then.  Middle name is — of course — Beauregard.
Herb Kohl (D-Wis.) — Bland as dry toast.  Owns the Milwaukee Bucks.  Has lots of bucks himself.  His name is slapped on the U.W. basketball/hockey arena as evidence of his vast supply of the munnie.
Orrin Hatch (R-Utah) — If one recalls correctly the sayings of St. Molly Ivins, one might recall that he is one of the few men alive who can pucker his lips tighter than a chicken's asshole.  Dude gets paid to be a pain in the ass.  (In better news, he is the chief proponent of abolishing the Bowl Championship Series.  That really is Change I Can Believe In.)
Dianne Feinstein (D-Cal.) — Harder than she really has to be.  Unearned reputation for being a San Francisco liberal, just because she was mayor of the town for a good long while. 
Chuck Grassley (R-Iowa) — This guy made some noise by going after the tax-exempt status of several televangelists a while back.  Otherwise?  As conservative as they come in the Middle West.  Note that Iowa's Supreme Court went off the reservation a while back.  This could be a thing with him.
Russ Feingold (D-Wis.) — At times, an All-World Badass.  At others, a sincere disappointment.  On the whole?  I like the guy a lot.
Lindsey Graham (R-S.C.) — This guy?  Makes a lot of unorthodox, perhaps mavericky, moves, so much so that he can be seen as a moderating force.  A clever ruse, this.
Tom Coburn (R-Okla.) — Odds-on favorite to do something really, really insane with his time.  He's near the end of the seniority order.  It may be worth the wait. 
John Cornyn (R-Tex.) — Unremarkable, except for the fact that this will be the first major event since the swearing-in of the man he sought to defeat after the election.  Him…
Al Franken (D-Minn.) — The only member who has impersonated a Senator at a Judiciary Committee hearing on Saturday Night Live, in which he, as Paul Simon (D-Not The Singer), suggested to Clarence Thomas that he might not be as popular with the ladies as Thomas was, because of the bow tie.
Also appearing: Jon Kyl (R-Ariz.), Chuck Schumer (D-Who You Lookin' At?), Arlen Specter (??-Pa.), Dick Durbin (D-Barry), Ben Cardin (D-Md.), Sheldon Whitehouse (D-R.I.), Amy Klobuchar (D-Minn.), Edward Kaufmann (D-Biden).
Amongst the witnesses for Sotomajor…
David Cone — Really now.  For those not up-to-date on Sport, he was a pitcher.  A good pitcher (a perfect game, and another game with 19 strikeouts).  And also a guy in the booth for Yankees broadcasts.  (Notable: this will happen during the All-Star break, so he doesn't miss any work.)  The qualifications, beyond his involvement in the 1994 strike case, escape me.
Michael Bloomberg (??-Noo York) — Doesn't he have a city to run into the ground?  (No, wait — it's Albany that is screwing things up at present.  Thus: Go with God, Mike.)
Louis Freeh — Former FBI head. On board for Ruby Ridge and Waco, and the whole Wen Ho Lee mess.  I have no idea why he's here, or why he's useful.
And for the opposition…
Linda Chavez — Most recently, a warrior against affirmative action for an outfit known as the Center for Equal Opportunity.  No idea what she brings to the table in this… no, wait, it's coming to me….
Frank Ricci — Ah.  All is revealed now.  Odds are high that this guy might be the next Joe The Plumber.  It'll be hard to outpace the original, but he might have the horses to bring the serious crazy.
Add a Comment
Please
log in
to post a comment