Palin 101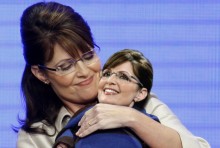 TBogg offers the best summation I've seen so far:
But somewhere along the line (I'm guessing when her Alaska Trust Fund only pulled in about $125,000 of the $500,000 that they were seeking  for her mounting legal bills) she decided to cut bait and make a dash for the cash sooner rather than later. As we move farther away from the election and more little tidbits come trickling out of the McCain campaign, time is not going to be her friend.

Sarah Palin isn't smart in what we might call conventional ways, but she has grifter smarts and knows that she can make a better living working the wingnut welfare circuit preaching to the already converted than she can in politics. She'll never be President; you know it and she knows it. Everyone should know it. But there are a lot of rubes out there who think she's got a shot and they're just dumb enough to pay good money thinking it will happen. That is what she's counting on.
And the following video is one of the most sphincter-tightening I've ever seen (watch AC's face, for one thing):
https://www.youtube.com/watch?v=E0XRot6ydGM
Like Sarah, Meg Stapleton just spouts words in the hope that some of them resolve into something intelligible.
UPDATE:  Palin and her attorney have pointed out that FBI sez no investigation, but they have not mentioned the possibility of an investigation by the state:
Update: This just in my inbox, from a source connected sometimes to CNN:

"Here's a quote I got from law enforcement here in Alaska yesterday afternoon regarding Palin "a criminal indictment is pending authorization."
Add a Comment
Please
log in
to post a comment