It Begins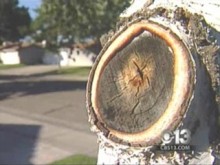 Jesus Christ:
STOCKTON (CBS13) A Stockton family says the image of Michael Jackson appeared on his tree stump the day the King of Pop died.

Like the "Virgin Grilled Mary" or "Cheesus," the family thinks they've got an unusual spiritual image staring right at them from their own front yard. Felix Garcia has lived in the house for 22 years, and has never noticed the apparent image in his birch tree stump.
He might wind up bigger than Jesus.
Add a Comment
Please
log in
to post a comment