Eye on the Ball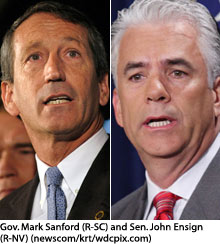 Let's face it – Farrah Fawcett picked the wrong day to die.  Like those who passed away around the time Ronald Reagan died (Tony Randall, Ray Charles) her story will be washed out to sea by the tsunami of Michael Jackson coverage. Poor Farrah – yesterday, once the Gloved one was declared dead, she went from a banner at the top of the NYT front page to a blurb and a postage-stamp photo at the bottom.
It is also true that coverage of the Ensign and Sanford sex scandals will suffer. And this is unacceptable. These family-values fuckwits need to be mocked, driven from office, and perhaps gelded.
So I promise to do my best to keep on top (sorry) of both stories.  Here's the latest:
Mark Sanford has been holding a televised cabinet meeting this afternoon.

And the South Carolina governor started out by using an interesting comparison to respond to calls for his resignation. King David didn't back down after his own sex scandal, he told his colleagues, and neither will I.
You have got to be shitting me. David was, like, a king. Sanford is an elected official. Plus, David could have anyone that disagreed with him smitten, if you know what I mean.
The Las Vegas Sun reports that Fox News received Doug Hampton's bizarreletter — about the affair between Hampton's wife Cindy and Sen. John Ensign — three days earlier than the right-wing news channel had previously acknowledged.

***

Of course, the main significance of the news, as the paper notes, is that it raises the likelihood that someone at Fox, or in touch with them, tipped Ensign to the news, prompting the Nevada senator to come clean. Fox senior producer Tom Lowell has previously denied telling Ensign about the letter, but Lowell declined to comment for this story.
And believe it or not, there is a Ensign-Sanford connection.
And just for fun, a handy chart I found over at fivethirtyeight.com.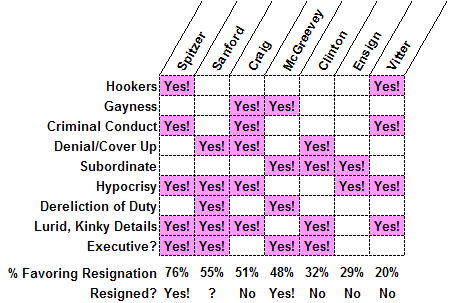 That's all for now.
Add a Comment
Please
log in
to post a comment