Sanford & Son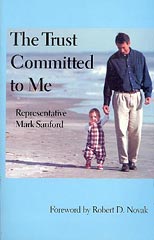 Title: "The Trust Committed to Me"
Author: Mark Sanford
Rank: 160,247
Blurb: None. Published in 2000 by the U.S. Term Limits Foundation.
Review: "Unlike the lack of trust committed to my wife and children as I scamper off to Argentina in the dark of night to be with my other family I truly love."
Customers Also Bought: "Conscience of a Conservative," by Barry Goldwater
Footnote: Makes a great read on those long international flights!
Bonus: Meet the ghostwriter!
Buy or Die [Stinque@Amazon kickback link]
Add a Comment
Please
log in
to post a comment