Driving Up The Coast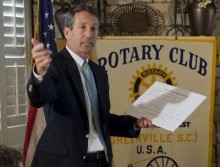 As you know, GOP sex scandals are, well, a hobby of mine. And we all might just be in for a little treat:
Things are still murky on the Mark Sanford story. But it's looking increasingly likely that Sanford's trip to Argentina was about more than a scenic drive down the coast.

"There is some evidence he was not alone," a source in South Carolina politics told TPMmuckraker. "The other shoe's gonna drop. I believe there's a reason he wanted to drop his SLED detail."
Another woman?  A man?  Wetsuits? Assfucking?  The mind boggles.
According to the source, a second car was identified at the Columbia airport, next to the SUV Sanford is believed to have used. Two additional sources in South Carolina politics said the same thing.

Separately, Will Folks, a former spokesman for Sanford who now runs a South Carolina political blog, is reporting that, according to a source, the Sanfords have been having problems in their marriage and have "been in marital counseling for several weeks now."

We should have some more information on this soon. Sanford's office has called a 2pm press conference, and Politico's Mike Allen tweets that according to the South Carolina press, the "woman question will be asked directly and clinically (no parsing)."
Another "rising star" in the Republican party caught with his dick in the wrong place?  Stay tuned …
ADDING:  There's another explanation that involves assfucking.
ALSO ADDING: – Kos diarist confesses to making it up in the comments.  I haz a sad.
Add a Comment
Please
log in
to post a comment