Hearts and Minds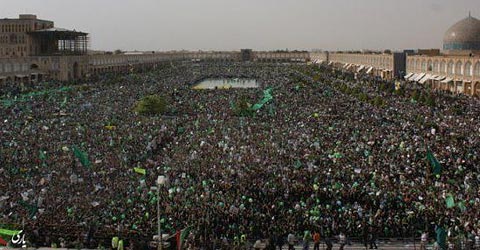 We have to presume, absent notable developments to the contrary, that Iran's rulers will emerge from this extraordinary moment with their power intact. They are, after all, following a familiar script: Declare a god-blessed landslide victory, throttle communications, label the opponents anti-revolutionary, arrest as many opposition leaders as you can, throw some hardware on the streets.
But their power, until now, has been maintained under a pretense of legitimacy. It may not be a government beloved by its people, but the millions voting in Friday's election weren't calling for an insurrection — they were calling for reform. And, until Friday night, they were confident it would happen, or at least be given a decent chance. This was not an angry election.
Those hopes, brutally dashed, will not go away. Except for two highly unlikely outcomes — Mousavi being declared the winner after all, or a fresh election conducted fairly — the fate of Iran has been cast. A predominantly young population, its collective will thwarted, will not soon forget.
Consequences of their new enlightenment will emerge quickly — assuming their rulers are unwilling or unable to continue throttling the Internet until the Prophet returns. We cannot presume they will be so bold as to organize in the face of an oppressive regime, but before the election, Iran was celebrated for having the third-highest concentration of bloggers in the world.
At the very least, we will be hearing many interesting stories in the months ahead. And although nobody can predict what form their resentment will ultimately take, it won't be to the benefit of their rulers.
Continuing Coverage:
niacINsight [National Iranian American Council]
Tehran Bureau [Independent Iran news]
The Lede [NYT]
Nico Pitney [HuffPo]
Photo: Naghshe Jahan Square, Iran, June 16, 2009 [HuffPo]
Add a Comment
Please
log in
to post a comment