Keeping Up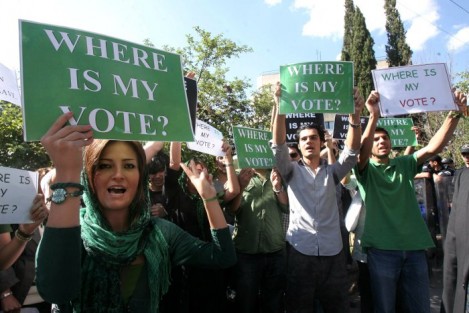 How to wrap your brain around this mess in Iran?  Here's my formula:
1) Nico Pitney – an Iranian national liveblogging for the Huffington post (good video content);
2) Juan Cole at Informed Comment – he's a Middle East expert;
3) Talking Points Memo – scroll down the front page – stories are all grouped together;
4) al Jazeera English (last, but not least).
Finally, I found this from Pitney to be very powerful – a female medical student said:
photo: Newscom/AFP
I only want to speak about what I have witnessed. I am a medical student. There was chaos last night at the trauma section in one of our main hospitals. Although by decree, all riot-related injuries were supposed to be sent to military hospitals, all other hospitals were filled to the rim. Last night, nine people died at our hospital and another 28 had gunshot wounds. All hospital employees were crying till dawn. They (government) removed the dead bodies on back of trucks, before we were even able to get their names or other information. What can you even say to the people who don't even respect the dead. No one was allowed to speak to the wounded or get any information from them. This morning the faculty and the students protested by gathering at the lobby of the hospital where they were confronted by plain cloths anti-riot militia, who in turn closed off the hospital and imprisoned the staff. The extent of injuries are so grave, that despite being one of the most staffed emergency rooms, they've asked everyone to stay and help–I'm sure it will even be worst tonight.

What can anyone say in face of all these atrocities? What can you say to the family of the 13 year old boy who died from gunshots and whose dead body then disappeared?
Heartbreaking.
Any other sources that you like?
Add a Comment
Please
log in
to post a comment