Finally, a New GOP Sex Scandal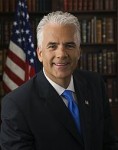 Schtupping a staffer:
WASHINGTON — Republican  Sen. John Ensign of Nevada admitted Tuesday he had an extramarital affair with a member of his campaign staff. Ensign told The Associated Press in a statement, "I deeply regret and am very sorry for my actions."
[googling]
RENO — Stepping up his re-election campaign, Sen. Harry Reid says his Republican challenger Rep. John Ensign showed a "lack of maturity" in calling so quickly for President Clinton's resignation.

***

Ensign defended his position on Monday and repeated his call for Clinton to resign.

"I think we are dealing with a very serious problem here. With what we know [this was prior to Starr report – ed.] and what we already knew, to me, the honorable thing to do would be to resign," Ensign said in a telephone interview from Washington.
I eagerly await his resignation. And Vitter's.
Here's a fun video – it's about the stimulus, not marriage, but it's still fun to watch a Frank smackdown of this douchebag.
Add a Comment
Please
log in
to post a comment