BREAKING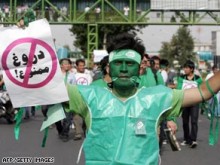 Sully says Iran's election commission calling for a do-over:
Yes, the president of Iran's own election monitoring commission has declared the result invalid and called for a do-over. That is huge news: when a regime's own electoral monitors beak ranks, what chance does the regime have of persuading anyone in the world or Iran that it has democratic legitimacy?
Stay tuned.
Magnanimous in "victory" – won't guarantee his opponent's safety:
Nothing is wrong, just ask Mahmoud!
Reminds me of this guy:
https://www.youtube.com/watch?v=1ntbfVQvHt8
For RZ:
Add a Comment
Please
log in
to post a comment