Iran So Far Away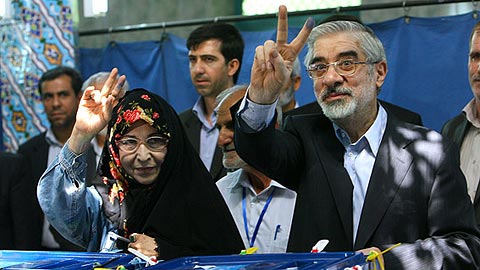 Mir Hossein Mousavi and his wife, not-Michelle Obama, vote Friday.
So we're talking about Iran with our neighbor, who has family in the region, and we try out our line about how if you're going to steal an election, at least make a good show of it.
And then as he expresses his fear about what will happen if so many hopes are dashed, we recall that this week is the twentieth anniversary of Tiananmen — the iconic tank photo was taken June 5.
It's too soon to tell what, if anything, will happen. But officially, Ahmapunchline won 65 percent of the vote and the adoring commentary of wingnuts for the next week. (World villains are so hard to find these days.) And just as officially, housing prices in Tehran have doubled each of the past two years, inflation topped 28 percent last summer, unemployment is at 30 percent, and the Iranian economy is in the shitter.
As we've seen this week, there's a lot more to Iran than nukes and antisemitic pipsqueaks. And now that we're stepping down from the role of World's Raging Asshole, perhaps we'll see more of it.
Ahmadinejad 'nearing Iran election victory' [BBC]
Photo: Mehdi Ghasemi [Iranian Students News Agency]
Add a Comment
Please
log in
to post a comment