The Sanctity of Life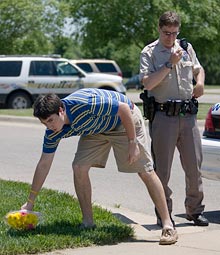 At our childhood Lutheran church, the chapel was called the sanctuary:
George Tiller, the Wichita doctor who became a national lightning rod in the debate over abortion, was shot to death this morning as he walked into church services.

Tiller, 67, was shot just after 10 a.m. at Reformation Lutheran Church at 7601 E. 13th, where he was a member of the congregation.…

Protesters blockaded Tiller's clinic during Operation Rescue's "Summer of Mercy" protests during the summer of 1991, and Tiller was shot by Rachelle Shannon at his clinic in 1993.
A 51-year-old male suspect was arrested about three hours after the murder.
Photo: Friend of Dr. George Tiller places flowers outside of Reformation Lutheran Church. [Wichita Eagle]
Update: Last Tuesday, Operation Rescue posted a news release titled "Tiller Abortion Worker Honored at White House by Obama":
Gold Star Mother Betty Pulliam, who lost a son in Viet Nam, now works to take the lives of other women's sons and daughters at George Tiller late-term abortion mill in Wichita, Kansas. Yesterday, she breakfasted with President Obama and was honored in our nation's capital as part of a Memorial Day observance.

This is yet another connection between Obama and late-term abortionist George Tiller. Obama's new Secretary of Health and Human Services, Kathleen Sebelius, had close connections with Tiller. Pulliam was among those who were honored by Sebelius at a party held in Tiller's honor at the Kansas governor's mansion.

Pulliam, at 83, volunteers her time at Tiller's clinic on busy abortion days. She told the Wichita Eagle of her role as a Gold Star Mother, "You really don't want to belong to this club because in order to belong to this club, you have to lose a child. So nobody wants to belong to it."
That Wichita Eagle story — "Wichitans are special guests at Memorial Day events in nation's capital" — appeared last Monday. A commenter on that story observed that "Betty Pulliam is a prized employee of TILLER THE KILLER."
Update II: Operation Rescue founder Randall Terry (no longer affiliated with the group) reacts:
George Tiller was a Mass-Murderer, says Randall Terry — We Grieve That he Did Not Have Time to Properly Prepare his Soul to Face God

Randall Terry, founder of Operation Rescue, led protests against George Tiller's late-term abortion clinic in Wichita in 1991.

Randall Terry, founder of Operation Rescue states, "George Tiller was a mass-murderer. We grieve for him that he did not have time to properly prepare his soul to face God. I am more concerned that the Obama Administration will use Tiller's killing to intimidate pro-lifers into surrendering our most effective rhetoric and actions. Abortion is still murder. And we still must call abortion by its proper name; murder.

"Those men and women who slaughter the unborn are murderers according to the Law of God. We must continue to expose them in our communities and peacefully protest them at their offices and homes, and yes, even their churches."
Update III: The official Operation Rescue press release, attributed to president Troy Newman:
We are shocked at this morning's disturbing news that Mr. Tiller was gunned down. Operation Rescue has worked for years through peaceful, legal means, and through the proper channels to see him brought to justice. We denounce vigilantism and the cowardly act that took place this morning. We pray for Mr. Tiller's family that they will find comfort and healing that can only be found in Jesus Christ.
Blogenfreude also notes (via Sully) a Bill O'Reilly connection:
Add a Comment
Please
log in
to post a comment