Wingnuttia Looks the Other Way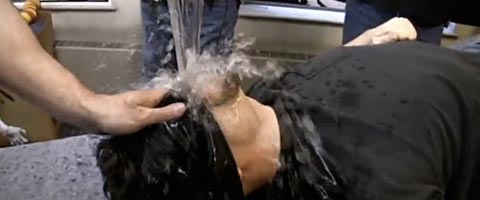 When we heard that Chicago right-wing shock jock Erich "Mancow" Muller had himself waterboarded Friday morning — and immediately declared it "torture" — we thought it was significant. Not that we need Mancow to instruct us on the Geneva Conventions, American law, or centuries of jurisprudence, but we figured that a former frequent flyer on Fox & Friends might reach corners of the electorate that even Shep Smith can't rouse.
We were wrong.
We looked — hard — for examples of wingnut reaction to post here, but of the pages and pages of Google links, everyone excited about yesterday's video seems to have "blue" somewhere in the title.
Surely NRO's Corner would make a passing reference just to dismiss it. Or Townhall or RedState would have some choice snide remarks. Glenn Reynolds, perhaps? Or how about Michelle Malkin, between attempts to pass off clumsy stoners as dangerous jihadists?
Nope. Nada. All we could find was Allahpundit taking a whiff and walking away:
"I'm too lazy on an afternoon before a holiday weekend to check our archives for how many clips I've posted of private citizens voluntarily waterboarding themselves to prove how awful it is. Suffice it to say the number's greater than three, which of course is the total number of terrorists waterboarded by the CIA. Like Hitchens, Mancow readily calls it torture, which must make this the first torture technique in history that can double as a shock-jock radio bit."
That, plus a lesser mortal at Hot Air, and somebody at some blog called Right Pundits.
To find any wingnut reaction, you'd have to cruise comments attached to news stories, and most of those amounted to comparisons of waterboarding and beheading. But those folks probably think John McCain is a wimp.
So, despite Keith Olbermann crowning Mancow champ and kicking in that promised ten grand to military families, we'd still like to see Hannity put up or shut up. Not that it would make a difference — we know better now — but we're not above enjoying the spectacle for the sake of it.
Add a Comment
Please
log in
to post a comment