We Make Videos v.2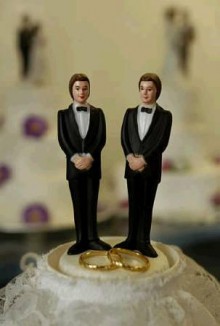 If you haven't seen JNOV's thought-provoking video, watch it.  And now, some of the comments left on YouTube by a particularly energetic  commenter:
brandonperrybrand (1 day ago) 

Gays should never get rights as a married couple because there has to be a man AND a woman present to make up a marriage. Read the book of Genesis. It tells how the men in soddom and gomorrah became inflamed with passion for each other. THAT"S WHY GOD DESTROYED THEM!
brandonperrybrand (1 day ago) 
Sexual orientation IS NOT an immutable characteristic. There is a reason men have a penis….because it fits in a womans vagina! Its not made to go where your bowels are excreted. Stop fooling yourself! Sexual orientation is a decision you make on your own. So maybe your not so manly and you like lifetime movies. That doesn't make you a woman, it just makes you sensitive!
brandonperrybrand (1 day ago) 
Why Homosexuality, Once Rooted, Is Extremely Difficult to Extirpate
In 1814, Sir John David Michaelis wrote his four-volume Commentaries on the Law of Moses. In it he explains why sodomy is considered the worst of all vices in a society and that a nation which once embraces it is most likely not to escape from its powerful, consuming grasp.
"If we reflect on the dreadful consequences of sodomy to a state, and on the extent to which this abominable vice may be secretly carried on and spread, we cannot, on the principles of sound policy, consider the punishment as too severe. For if it once begins to prevail, not only will boys be easily corrupted by adults, but also by other boys; nor will it ever cease;

more especially as it must thus soon lose all its shamefulness and infamy and become fashionable and the national taste; and then . . . national weakness, for which all remedies are ineffectual, most inevitably follow; not perhaps in the very first generation, but certainly in the course of the third or fourth."
JNOV:
Dude! Are you still quoting that guy? Chill, man. You guys have latched on (what appears to me) to be some obscure German dude writing *outside* his field who lived in a Church State. I'll say it again: We do not live in a church state AKA theocracy. That's how the Framers wanted it, and that's how it is.
Christians – telling you who you can and can't fuck since 1 AD!
Add a Comment
Please
log in
to post a comment