The Ballad of John and Satan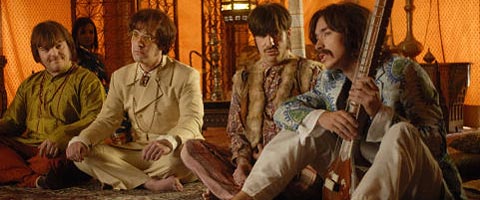 Fresh from their close encounter with toaster demons, WorldNetDaily is back above the flag with a shocking! revelation that will cause you to question the very nature of life itself.
And once again, we must advise you to sit down and move all sharp objects beyond your reach. We cannot accept responsibility for your behavior once you learn the shocking truth:
John Lennon made a deal with — the Devil.
We know! Totally unexpected. But it must be true, because somebody wrote a book about it — somebody who after careful study reached the conclusion that there's no other possible explanation for the success of the Beatles:
Written by a lifelong Beatles fan and musician, the book hypothesizes the pact was made just before the band experienced its first major successes and ended 20 years later with Lennon's assassination in New York by Mark David Chapman, who later claimed to have demons exorcized from him while serving his sentence for murder in Attica State Prison.
That twenty-year note on Lennon's soul is not by chance — it's the exact same twenty years enjoyed by Johann Faust, whose fame rivaled Lennon's, and whose own Satanic pact is fairly well-documented.
We know what you're thinking: These people are batshit crazy. But that can't be right — these people are also leading advocates of teabagging and birth-certificate challenges. Surely they've earned our trust.
Add a Comment
Please
log in
to post a comment