The Crazy is Out There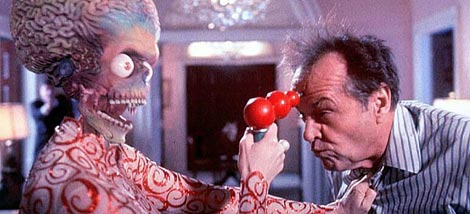 If you visit Larry Klayman's Freedom Watch website, you'll find the usual complaints about "a new Obama-Clinton regime that is using the economic crisis as an excuse to turn our nation into a socialist Euro-style welfare state," the usual proclamation of "true American values," the usual anti-immigration paranoia.
What you won't find is Klayman's certainty that the government is covering up UFO evidence.
Which wouldn't be news, except that wingnut digest and teabagger enabler WorldNetDaily made that its top story Sunday. And Klayman's claim to fame is founding Bubba-stalker Judicial Watch.
Upon which everything suddenly makes sense. It's like discovering that the Smoking Man is Mulder's father.
Klayman posted his announcement in the Freedom Watch May newsletter, which we can't find online. But WND reports he has filed FOIA requests with the CIA, DIA, DoD, NSA and the Air Force, so their staffs can waste government time instead of waterboarding taxi drivers.
"Have the tens of thousands of documented sightings over the years been the result of a collective psychosis, a self-delusionary fabrication of the mind, or is there something more to these incidents?" asks the report.
We vote B, but the real answer is C — there's more to the story than a silly request ten years beyond its faddish relevance.
And that's because UFOs are really…
Satan!
WND works the fundie side of Wingnut Avenue, you see — they're hardcore supporters of Israel because the Lord's in a rush to launch Armageddon.
And what ties everything together is a link from their story to a DVD they're offering: The UFO Conspiracy: Space Travelers or Demonic Deceivers?, which "reveals the hidden truth about UFOs and the beings who operate them."
No, not Martians. Just so we're clear, WND also links to its own 2007 story about a series of mysterious electrical fires in Sicily, which quotes a "Vatican expert" saying "it is normal for domestic appliances to be involved and for demons [to] make their presence known via electricity."
Thus: the government is withholding evidence of UFOs because they would prove the existence of demons, which in turn would prove the existence of God.
Honestly, some days we're left wondering how these people are able to feed and clothe themselves. But it would be a great question to ask all Republican candidates for higher office: "Governor Jindal, do you believe UFOs are the work of the Devil?"
Add a Comment
Please
log in
to post a comment