Bayoneting the Survivors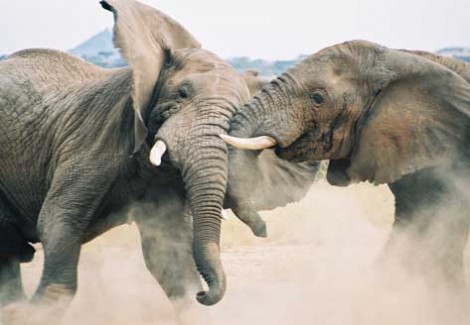 Social conservatives are blasting the National Council for a New America, House Minority Whip Eric Cantor's (R-Va.) nascent effort to rebrand the Republican Party, as a misguided and weak-kneed initiative that is out of touch with the GOP rank and file.
And why do you suppose the whackjobs don't like it?
[S]ocial conservatives couldn't help but notice that the policy areas the group will focus on included no mention of same-sex marriage, immigration or abortion. And the roster of GOP luminaries who signed on to the effort was missing a few of the pols who are most popular with values voters.

"The moderates have been saying the same thing all these years, and now they're just seeing a renewed opportunity to push their ideas," said Rep. Steve King (R-Iowa), a leading opponent of gay marriage.
Oh please – keep hatin' on The Gays and brown people, and keep telling us that Blastocyst Americans have more rights than grownups.
Mike Huckabee, the former presidential candidate who was not invited to join the so-called GOP panel of experts involved with the effort — a list that included Govs. Bobby Jindal of Louisiana, Sarah Palin of Alaska and Haley Barbour of Mississippi and former Govs. Mitt Romney of Massachusetts and Jeb Bush of Florida — said that it was "sad day" in Republican politics when "we think it is necessary to form a 'listening group' to find out what Americans think we should be fighting for."

"Our problem is not lack of 'experts,' but too many of them and not enough attention to the hard working people in our communities that aren't connected to the Beltway, but to the heartland," he said in a statement.
I am wondering how they determined that Mike Huckabee was out when they included sociopaths like Palin and Jindal.
Cantor has insisted that no slight toward any of the party's constituencies was intended.

"The National Council for a New America is meant to be a wide-open policy debate," he said Monday during a CNN interview. "There is no exclusion about what we'll talk about."

Still, for some the very creation of the council has proven to be a sore spot. Nearly a dozen conservative politicians and leaders contacted for this story either declined comment or did not return multiple calls.

"Too many Republican leaders are running scared on the claims of the left and the media that social conservatism is a dead-end for the GOP," the Family Research Council's Tony Perkins said in a statement. "If that were the case, why are pro-family leaders like Mike Huckabee creating such excitement in the conservative base? The Republican establishment doesn't draw a crowd."
Fuck Tony Perkins.  Fuck 'em all.  I am sick and tired of people who want to control our lives because they believe there's an invisible man in the sky who cares about them.  Keep your fucking religion out of my life.  If you want to do something useful, take some of that money you raise from your snakehandling followers and help the poor.  Sounds like something Jesus would have done.
Add a Comment
Please
log in
to post a comment