GOP Slapfest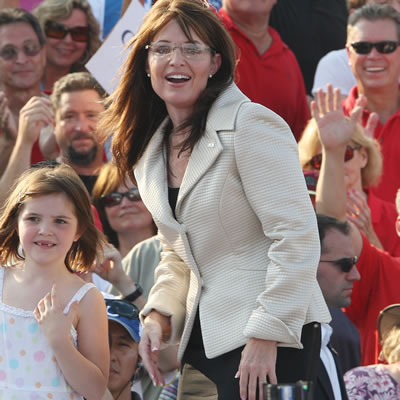 In case you haven't noticed, the GOP is fixin' to rebrand itself.  The last eight years haven't worked out so well, and now that first cowpoke W has ridden off into the sunset the Republicans plan to pick themselves up, dust themselves off, and start all over again.  So get ready – they've formed the National Council for a New America, and it's going to change everything! And Erick Erickson is psyched because Sarah Palin finally decided to get involved:
For those who were questioning the National Council for New America based on who was not on board, one of the names of those not on board has been Sarah Palin. She is now on board.
What a relief!
Of course, run-of-the-mill GOP douchebags like Cantor and the Psychogeezer would prefer that Palin stay home and never darken their doorway again.  The Mittbot 3000 got all catty this weekend:
On CNN on Sunday, council member Mitt Romney snubbed Palin's appearance on Time's 100 Most Influential list: "I think there are a lot more influential Republicans than that would suggest," he said.
And guess what?  Palin's atavistic supporters have struck back!
https://www.youtube.com/watch?v=xDOykmey7-I
This is going to be fun. Sarah Palin, Rick Perry, and Mark Sanford – they are the purists coming to bayonet the GOP survivors. What a great show this is going to be!
Add a Comment
Please
log in
to post a comment