Freaks & Geeks & Condi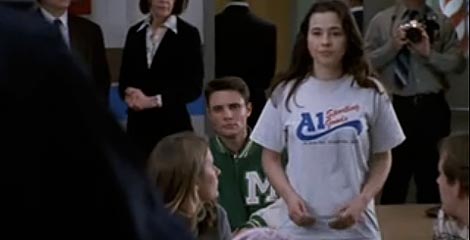 You've probably heard by now about Condoleezza Rice ducking a torture question from a fourth-grader Sunday, but this footnote catches our attention:
According to Misha's mother, he originally planned to ask a tougher question — "If you would work for Obama's administration, would you push for torture?" — but he was asked to change it. "They wanted him to soften it and take out the word 'torture.' But the essence of it was the same," Inna Lerner said.
That moment may sound familiar to cult fans of Freaks and Geeks, the high school series set in 1981. In a late episode, Vice President Bush plans to visit the school and take questions from students, but the students are surprised to discover their pre-screened questions have been mangled before the visit.
YouTube won't let us embed the video, but at 5:50 we find the following exchange:
"Mr. Vice President, my name is Lindsay Weir… My question is, Why did your staff reject my question? Are you afraid of an open discourse with the students?"
Short answer, then and now: Yes.
Freaks and Geeks [YouTube]
Add a Comment
Please
log in
to post a comment