The World's Greatest Deliberative Sham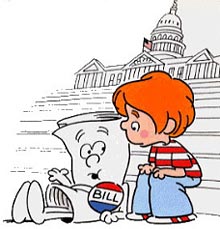 We already know the Senate is inherently undemocratic — Alaska gets the same two votes as California, after all.
We also know that in practice, the Senate is even more undemocratic — it takes 60 votes to shut down a filibuster.
But now that Al Franken is poised to claim that 60th vote for the Democrats (as well as claim another decade for himself), we got to wondering whether the Senate was still more undemocratic than we realized.
And guess what?
Comparing Senate seats to 2008 population estimates by the Census Bureau, Republicans represent 36 percent of Americans, while Democrats and fellow-travelers (including Franken) represent 64 percent. Averaged nationwide, each Democrat represents 532,991 more citizens than each Republican.
Or, if you'd like that in the form of a soundbite: Each Senate Republican represents 16 percent fewer Americans than each Senate Democrat.
So it looks like Republicans have enjoyed some bonus votes — three, to be precise. 57 Democratic Senate votes would represent 60 percent of Americans. And that's not even questioning the legitimacy of the filibuster itself.
All of which is to say, the next time you hear the inevitable yammering about trampling on the rights of Senate Republicans, bear in mind that they're already benefiting from affirmative action.
Add a Comment
Please
log in
to post a comment