Torture Roundup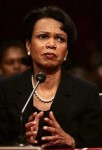 More of that Bush legacy we're hearing so much about:
1) Condi approved waterboarding first.
2) Holy Joe can't figure out whether he likes waterboarding or not.
3) John "Torture" Yoo booed, still clueless.
4) Leahy says Bybee should resign.
5) Dick Cheney – still a complete tool.
6) Abu Zubaydah gave useful information before he was tortured.
7) FLASH: Torture doesn't work.
8) Sean Hannity says he'll be waterboarded for charity.
Add a Comment
Please
log in
to post a comment