Slow Boiling with Jim Cramer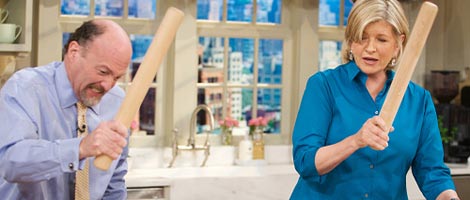 Remember Jim Cramer? Last time we checked, he was being skewered by Jon Stewart. And if the world has moved on, Cramer hasn't:
"It was a complete and utter ambush," Cramer said in an interview with The Lantern. "He told my staff that it was going to be fun, convivial, no clips, but [it] doesn't matter, he's a comedian, he can do whatever he wants."
Of course Cramer's a comedian too, unless all those props are common arbitrage tools. (And speaking of comedians: Ladies and gentlemen, Glenn Beck!) And about that "ambush" — Cramer himself predicted it earlier that day while cooking with convicted financier Martha Stewart:
"I mean, he's going to be standing there giving me the business, I'm going to have to fight back," Cramer said. "I'm not a doormat. Do I impress you as a doormat?"
Well, yes, that night anyway. But after taking Rick Santelli's bullet for CNBC all that week, Cramer now says nobody could have guessed Stewart would be loaded for bear:
"Was it a fair fight? No, it wasn't even a fight. I came on with the idea of taking a high road approach and discussing the issues, obviously [Stewart] came on strictly to try to humiliate me," Cramer said. "It was brutal. Was he stand-up? Absolutely not. Did he comport himself as a gentleman? Hardly. It was a deposition; he wants to be a prosecutor."
Given those clips where Cramer brags about how his friends manipulate the market, that might not be a bad idea. Speaking of those clips, perhaps they explain this boast:
"And I can tell that guy, when he's made his first 100 million in the market, I will respect his judgment about the market."
And we'll respect Jim Cramer's judgment when he can tell us how to make that hundred million without a bubble inflating his profits.
Add a Comment
Please
log in
to post a comment