Pride & Prejudice & Zombie Fads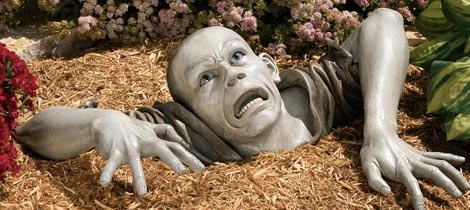 Now that io9 has spilled the brains on our open-source Zombie Bible, let's have a look at everyone else we're beating to market:
The Portrait of a Lady and Vampires (Henry James and Laurell K. Hamilton)
Crime and Punishment and Werewolves (Feodor Dostoevsky and Stephen King)
War and Peace and Alien and Predator (Leo Tolstoy and Jeff VanderMeer)
Silas Marner vs. The Lizard Men (George Eliot and Paul Di Filippo)
Three Men in a Boat and Sea Serpents (Jerome K. Jerome and Connie Willis)
The Demons at the Heart of Darkness (Joseph Conrad and John Shirley)
Moby Dick vs. Cthulhu (Herman Melville, H. P. Lovecraft, August Derleth and Brian Lumley)
Portrait of the Artist as a Young Terminator (James Joyce and Aaron Allston)
The Bible, Now With Added Dinosaur Attacks (Creationist Press)
Creationist Press publisher Hubert Dodd explains the no-brainer economics behind the fad:
"For a long time, publishing overhead has been eaten up by the editorial expenses of preparing text for publication. Now, thanks to these mashups, half of that expense is going away. We're getting closer to that happy, long-awaited day when the publishing industry can finally eliminate writers."
Mr. Dodd, the dawn of that day has already arrived.
And The Lord Said, Braiiiiiins [io9]
Image: Zombie Garden Statue [Design Toscano]
Add a Comment
Please
log in
to post a comment