Introducing the Stinque Zombie Bible!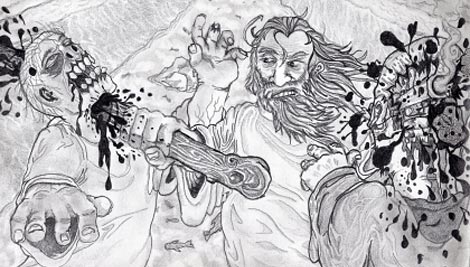 In this first installment of the Illustrated Zombie Bible Classics series, Moses handles two zombies with his staff and his .45 while parting the waters of the Red Sea.
The Bible may be the foundation document of Western Civilization, but it hasn't been revised in almost two millennia.
Frankly, we're astonished that anyone can still make sense of it.
Even the majesty and poetry of the King James version sounds archaic to modern ears. Modern translations, on the other hand, just sound lame.
What's missing? Zombies.
Sure, you can argue that our omniscient Creator saw that one coming — for what is the Resurrection but a Zombie story? What is Revelation but the greatest Zombie movie ever made? How can we even think of the End Times without Zombies?
Well, we can't. And that's why we've created the Stinque Zombie Bible.

We begin with the full King James text, book by book, chapter by chapter. And we ask you to help us zombify it, Genesis to Revelation, alpha to omega. Start anywhere. Find a chapter or verse that just doesn't work for you. Add zombies. Voila! The Word made Undead.
And just as the original Bible was compiled from centuries of oral tradition — the first open-source project in history — so the Stinque Zombie Bible is built on a wiki. Does somebody else's Zombie update not meet your exacting standards? Improve it! We look forward to gory hermeneutic battles in the discussion pages.
Whatever you do, always keep in mind the First Commandment of Zombie Bible composition: If it bleeds, it leads.
Illustration & caption: Illustrated Zombie Bible Classics [Zone 2 Homebrew]
Add a Comment
Please
log in
to post a comment