Donate to Our Sarah Palin Defense Fund!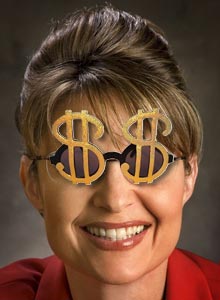 Everyone else is doing it, so why not us? Buy something via our Amazon kickback link, and 100% of the proceeds will defend our ability to continue posting about Sarah Palin!
What? You haven't heard of the other Talibunny Defense Funds? Well, there's the "official" fund, but you can't throw money at it, because it doesn't exist yet. And then there's the unofficial fund, which launched Tuesday and prompted alarming! emails Wednesday from both SarahPAC and Team Sarah, telling us to keep our wallets holstered.
But with our fund, you can get a Kindle! You'll have to pay for it, of course, but that's still a better return than our competitors. We love the free market!
We also love the freelance Sarah Palin's Defense Fund, which has nothing to do with Sarah Palin, and links to The Sarah Palin Blog, which also has nothing to do with her — just like us! The renegade fund is run by a new PAC called Free American Citizens, which also raises money via Sarah Palin's War Chest, another fundraising operation that — please, don't get ahead of us — also has nothing to do with Sarah Palin.
Somewhere at the heart of this shell game is Clayton Paslay, who we're told is a well-meaning "Texas businessman" just trying to lend a hand, although his PAC shows him with a Pacific Palisades address. That would put him just 14 minutes from the Penmar Golf Course in Venice, where he won $14 for the fewest putts in a 2007 "Weekend Warriors 2nd Saturday Skins" tournament. Congratulations!
Paslay must scream down Palisades Beach Road to get there, since he also apparently has a pressing issue with seat-belt laws:
It used to be "Buckle up for Safety!" Now, confinement is mandatory!

If we don't self-confine with our safety belts, we are treated as criminals: tickets and fines are issued. And if we do not pay these fines (or taxes), then the forced confinement WILL begin!
And if that's not enough to prompt you to give generously, Remember the Rubbers:
American public schools pass out condoms to our children!

When did sex education including values and abstinence get ripped from the hands of parents and get placed by the government into the public school system? Our property taxes pay for these schools but if we want to keep our children modest, sexually conservative and wholesomely educated, we have to educate them in our own homes or in private schools!
Just keep them out of Sarah Palin's home, if you know what we mean.
So, to recap: Sarah Palin's Defense Fund is not Sarah Palin's defense fund, run by a Texas businessman who's not from Texas, who also runs Sarah Palin's War Chest, which is not Sarah Palin's war chest. Got it?
Really, spare yourself the headache and just buy the Kindle.
Add a Comment
Please
log in
to post a comment