Bang!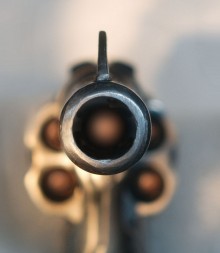 Read, but you should go listen to the story – it's pretty amazing.
All Things Considered, April 7, 2009 · An ammunition shortage in the U.S. is affecting police and sheriffs' departments all over the country, as well as gun dealers, from big retailers like Wal-Mart to smaller family-run businesses and online operations.

Ammunition suppliers say the shortage is due to several factors, including the sheer volume of ammunition heading overseas to fight wars in Iraq and Afghanistan. But they also say the shortage — as well as a sharp rise in gun sales — coincided with the election of President Obama, fueled by fears his administration would usher in more restrictive gun laws.
He's coming to take your guns snakehandlers!
"It started the day that Obama got elected," Johnny Dury, who owns Dury's Gun Shop in San Antonio, tells NPR's Michele Norris. "It is when everything just went crazy in the gun business."

Dury says people are buying guns as well as ammunition, creating a shortage of both. He says people are buying the guns to protect themselves because they perceive Obama's policies as socialist and rewarding those "people who are not working hard." They are also afraid, he says, of more restrictive gun laws.

"Everybody was scared he was going to take the ammo away or he was going to tax it out of sight on the prices," Dury says. "So people started stocking up, buying half a lifetime to a lifetime supply of ammo all at one time."
In the radio segment, the gun dealer talks about a 67-year-old woman who bought a lifetime supply of ammo for her AK-47.  No shit.
Add a Comment
Please
log in
to post a comment