The MIAC Report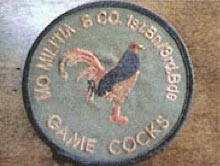 Following blogenfreude's post yesterday about the Pittsburgh cop killer, redmanlaw alerted us to some curious comments at Raw Story's report:
This is clearly looking like a Hit job MIAC style to make us all look bad.

this is nothing more than a hit piece and makes RS no better than MIAC report.

For all you fake ass liberals, go to youtube.com search a REAL liberal, Dennis Kucinich, finally actually sounding like those targeted in the MIAC leak.
We're not sure Kucinich sounds like a cat on the verge of puking, but apparently MIAC has another meaning altogether — it's the Missouri Information Analysis Center, one of 58 federally supported fusion centers that collate and distribute "threat related intelligence". Fusing the fusion centers is the Department of Homeland Security, so we understand if some folks are a tad creeped out by the enterprise.
For that matter, connoisseurs of historical irony will appreciate the fact that instead of J. Edgar getting his panties in a bunch over Lefties, this round involves MIAC sounding the alarm against the very radical right: the militia movement.
And if you stick around, there's even a Nixon reference.
The MIAC Report itself is an eight-page document issued February 20, and leaked online soon after. Most of it is a handy historical backgrounder on the evolution of militias over the past generation, their violent actions, and the sources of their discontent today — strip away the official label, and it could be a FAQ for the neonazi Stormfront website, where cop-killer Richard Poplawski posted pictures of himself.
There's even a chilling premonition of Saturday's shooting:
You are the Enemy: The militia subscribes to an anti-government and NWO [New World Order] mindset, which creates a threat to law enforcement officers. They view the military, National Guard, and law enforcement as a force that will confiscate their firearms and place them in FEMA concentration camps.
But that's not what created a stir among the stir-fried a few weeks back. We'll let wingnut digest WorldNetDaily take it from here:
The report warned law enforcement agencies to watch for suspicious individuals who may have bumper stickers for third-party political candidates such as Ron Paul, Bob Barr and Chuck Baldwin.

It further warned law enforcement to watch out for individuals with "radical" ideologies based on Christian views, such as opposing illegal immigration, abortion and federal taxes.
Well, not exactly. There is an illustrated section on "Common Militia Symbols" (such as the Fightin' Game Cock here), and it does reference Paultards et al., but it's descriptive, not phrased as a warning or call to action. But if you'd like to note that Profiling cuts both ways, we won't stop you.
In any event, after the MIAC report was leaked and Glenn Beck got a segment out of it with Penn Jillette — almost prompting us to burn our copy of The Aristocrats — Missouri's top cop retracted the document, and the state's governor blamed his predecessor's administration for it.
And that's where it stood. Until Saturday.
Oh, almost forgot the treat. Missouri's governor is Jay Nixon. Democrat. No relation.
Add a Comment
Please
log in
to post a comment