Feeding on the Blood of the Living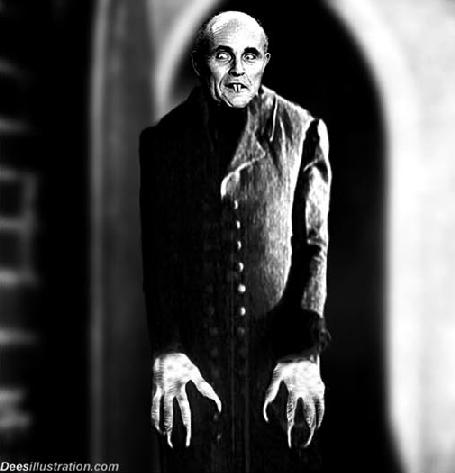 I can't tell you how happy this makes me:
Rudy Giuliani's once-thriving consulting firm is on the ropes, heavily pared down after his aborted presidential run last year, several sources told The Post.

The firm's client list has thinned out in the past few years, as have partner salaries, the sources said. Some partners have left, and some support staffers let go.
Sorry for the staff – fuck the rest of 'em.
The former mayor himself is infrequently there, the sources said, adding that he's still working the speaker's circuit hard and making international trips. He spends much of his time at his law firm, Bracewell and Giuliani.

Giuliani Partners insisted that the reduction in salaries was "not true" and denied that the company is in peril.
And the Titanic was unsinkable too.
The firm declined to name its clients or say how many it has.

The fate of Giuliani Partners is a subject of major discussion in political circles, at a time when the former mayor has told Republican leaders he's mulling a run for governor.

Privately, several Giuliani boosters noted the bad economy is impacting every consulting firm. Some said not having a raft of new clients could be helpful should he run for statewide office — since his business dealings become fodder for opposition research during the presidential run.

Giuliani built a major international brand in the wake of the 9/11 attacks.

But his costly presidential run flamed out in the Florida primary in January 2008, and the firm has never reverted back to its old form.

The firm is down to about 30 employees from the 60 it had about two years ago, officials said. They acknowledged that the number includes support staff, but insisted it's more on par with how the company looked when it was first founded.
If he becomes governor, where will I flee?
Sorry to link to the New York Post, but they had the story.
Add a Comment
Please
log in
to post a comment