Iowa is Your New Gomorrah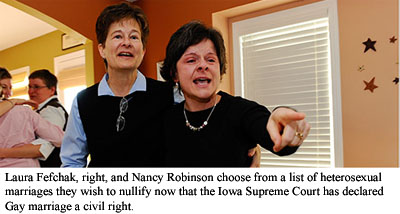 One hundred years from today, somewhere in the heart of Texas, or Alabama or Virginia the satanic priest officiating a ritual orgy will rise from the tangle of arms, legs and exposed pudenda and announce to all gathered: "Hey, did you guys realize that it was 100 years ago today that the institution of marriage was re-defined and Western Civilization began it's irreversible collapse?" That's because one hundred years before one hundred years from now is today, and today is the day that the Iowa Supreme court refused to acknowledge the inherent bigotry that informs  the nefarious act of treating gay people like everyone else. In so acting, the justices of the Iowa Supreme Court unanimously ruled that: "If straight couples can marry… WTF, why not the gays, too? After all, it'll only lead to the collapse of Western Civilization."
Sure other states (and even whole nations) had already ruled the same way, but one such state (Massachusetts) was a well known bastion of immorality and vice, instituting such state-wide blasphemies as universal health coverage and boasting of a divorce rate significantly lower than most of the Bible belt in a wholly transparent and unconvincing attempt to mock the Allmighty.The other state (California) witnessed a revolt by Biblically minded citizens who were incensed at the government's unwarranted intrusion into their lives. These brave citizens rose up and approved a ballot initiative that protected the institution of marriage by banning some people from marrying. These were good, Christian, defenders of the Constitution who resented the government intruding into their lives and just wanted to be left alone to deny other people the right to marry the person they so selfishly and inconsiderately chose to love.
But Iowa was not like these states. For one thing, it was a part of "Real America," meaning that part of the country that has never employed the subjunctive in a sentence, loses eight or more teeth by age fifty and names their children after NASCAR drivers and Beanie Babies. For another, Iowa was located square in America's heartland, not the coasts, and so did not suffer from the mysterious "saltwater vapors" illness that compels coastal residents to savor Chardonnay wines, attend graduate school and tithe to NPR and their local museum instead of the neighborhood church they never bothered to attend.
So today is different, people. Today is the day that the corpse of Western Civilization (and by Western Civilization I mean obscurantist fundamentalism) began to fester and putrify.
Add a Comment
Please
log in
to post a comment