pwned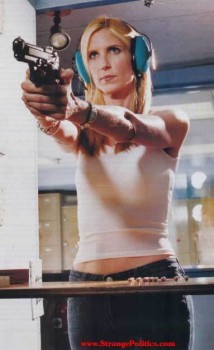 Ann Coulter – media whore, plagiarist, and now a complete fool:
In her April 1 column, Ann Coulter fell for a fake April Fools' Day article by Car and Driver magazine that claimed that President Obama has ordered General Motors and Chrysler to cease their participation in NASCAR because it is an "unnecessary expenditure." Coulter wrote, "If Obama can tell GM and Chrysler that their participation in NASCAR is an 'unnecessary expenditure,' isn't having public schools force students to follow Muslim rituals, recite Islamic prayers and plan 'jihads' also an 'unnecessary expenditure'?"
Not quite sure where she's headed with that, but you can head over to Human Events and read … oh wait, you can't.  I was wrong – the column has not been rewritten.
Car and Driver originally posted an April 1 story online — since removed — with the headline, "Obama Orders Chevrolet and Dodge Out Of NASCAR," and the text, "With their racing budgets deemed 'unnecessary expenditures,' GM and Chrysler are ordered to cease racing operations at the end of the season." However, Car and Driver later clarified that the story was an April Fools' Day joke, then removed the story from its website.
One phone call – one fucking phone call would have alerted her.  But it's not the first time she's been so sloppy.
 Media Matters for America has examined a copy of author and syndicated columnist Ann Coulter's new book, Guilty: Liberal "Victims" and Their Assault on America, which Media Matters obtained in advance of the book's release, and presents a sampling of the book's numerous falsehoods, including misrepresentations of the sources she cites. These falsehoods come on a wide-ranging list of subjects including her defense of the claims made against Sen. John Kerry (D-MA) by the Swift Boat Veterans for Truth during the 2004 presidential campaign; her assertion that "Fox News has never been caught promoting a fraud"; her claim that President-elect Barack Obama was referring to Gov. Sarah Palin when he said "you know, you can put lipstick on a pig; it's still a pig"; and attacks she makes against New York Times columnist Frank Rich.
We'll see if this gets picked up by the MSM.
Add a Comment
Please
log in
to post a comment