Hans von Spakovsky, Genius.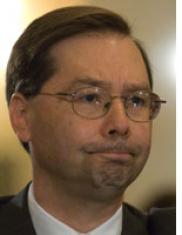 Haven't seen this guy over at The Corner yet. Let us see what he has for us, hmm?
Democrats complained endlessly about the supposed "politicization" of the Bush Justice Department. When asked about this at his confirmation hearing, Eric Holder piously pledged that his Justice Department would "serve justice" and "not the fleeting interests of any political party." America, he intoned, was "in dire need of a less political and more independent Justice Department."

But an e-mail and flyer recently circulated to Justice Department employees indicate Attorney General Holder has an interesting definition of what it means to be "less political." The flyer invites all employees to attend a speech in the main Justice building on Pennsylvania Avenue. In fact, it notes, all "supervisors are encouraged to grant official time to employees to attend this event."

And what pillar of the legal profession will be lecturing Justice employees to help them "serve justice" in a "less political" way? Why, none other than Donna Brazile, whose own website biography describes her as a "veteran Democratic political strategist" and a Vice Chairman at the Democratic National Committee. Brazile is marketed by more than one speaker's bureau at a cost ranging from $10,000 to $20,000. The flyer doesn't say how many taxpayer dollars are going to pay a Democratic political consultant to speak to career employees at the Justice Department (sounds like a good FOIA request). Good thing the Department is no longer politicized.
So, to sum up: stacking the office with loyal GOP hands, with selections overseen by a graduate of a Tier Twenty-Six law school that, oddly enough, is run by a preacher? These things happen. But a brown-bag lunch with a political operative will totally destroy the image of the DoJ and CANNOT BE TOLERATED.
Yeah. This guy totally should have been on the FEC.
Add a Comment
Please
log in
to post a comment