Snow White Trash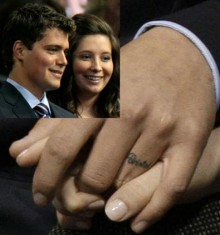 First I was going to post on an incredibly stupid Howard Fineman column.  Then I changed my mind when I found a deeply awful Michael Gerson op-ed.  But why do any analysis when I can just link to stupid shit like this:
The teen love affair that rocked last year's presidential race is over.

Sarah Palin's daughter, Bristol, has ditched her baby daddy, Levi Johnston!
Admit it – you're addicted to this shit.  The antics of the Talibunny and her spawn give you that glimpse into the trailer park you've always wanted.
Now's Levi's sister, Mercede is telling all exclusively to Star and the picture she paints of life in Wasilla, Alaska is not a pretty one. Bristol, 18, has virtually cut Levi out of the life of their two-month-old son Tripp.

"Levi tries to visit Tripp every single day, but Bristol makes it nearly impossible. She tells him he can't take the baby to our house because she doesn't want him around 'white trash'!" Bristol won't even allow him to watch the baby for a few hours — unless he's babysitting!

The worst part, Mercede continues, is that the former vice presidential candidate supports Bristol's treatment of Levi, 19. "I used to love Sarah," Mercede says sadly. "But I've lost lots of respect for her."
So have we Mercede, so have we. But we lost ours during the RNC.
Add a Comment
Please
log in
to post a comment