Fear Factory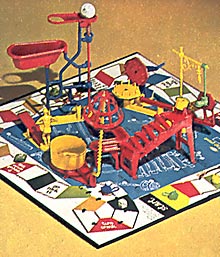 We've mentioned before our love of WorldNetDaily, your one-stop shop for right-of-Rush infotainment. It you want to know "why leftists love tyrants and terrorists," you're just a click away from enlightenment.
Actually, two clicks: One to wade through a page of blurbs, the second to hit the WND Shop to buy the book that delivers the goods. Which is published by — wait for it — WND.
It's a neat trick, and we envy their success. It also helps explain why WND has suddenly gone millenialist on us, with a couple of stories warning us about the end of the world as we know it.
Our guest fearmonger today is David Wilkerson, author of the Pat Boone vehicle The Cross and the Switchblade, who not only is still alive and kicking, but blogging about his holy nightmares:
"An earth-shattering calamity is about to happen," he writes. "It is going to be so frightening, we are all going to tremble — even the godliest among us… It will engulf the whole megaplex, including areas of New Jersey and Connecticut. Major cities all across America will experience riots and blazing fires," he explains. "What we are experiencing now is not a recession, not even a depression. We are under God's wrath."
That and a buck will buy you a share of Citigroup, of course, but while WND is no stranger to populist theocracy, outright prophecy — as their banner headline, no less — is still a reach for them. So what gives?
Perhaps it has something to do with Wilkerson's practical advice to his flock:
"lay aside a month's supply of food — because I have witnessed the panic in the wake of terrorism."
As luck would have it, WND advertiser Survival Seeds has just the product for the occasion: "high-yielding vegetable seeds sealed for long-term storage." And Survival Seeds owner Bill Heid just happens to be quoted in the story, explaining that "average, regular folks" find his product very useful. Good to know.
In fact, market forces being what they are, turning up the Fear to 11 might have its own cause: Christianity claims 10 percent fewer Americans than it did in 1990. If you can't get new customers, sell more to the old ones.
Add a Comment
Please
log in
to post a comment