Piyushme-Pullyu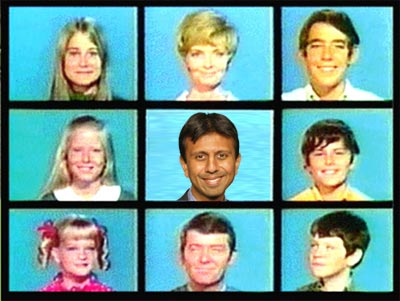 We weren't aware of Bobby Jindal's background until his stunning post-non-SOTU debut last week, and it's a fascinating story, one indeed comparable to Barack Obama's — except that Republicans aren't calling Jindal a terrorist.
Jindal was born June 10, 1971, in Baton Rouge. His parents had arrived in the United States from Soviet-supported India six months earlier so his mother could enroll in the graduate program at Louisiana State.
Which should, of course, make his presidential aspirations immediately suspect, if we're to have any standards in this great nation of ours. If Barry's Kansas mother isn't enough to satisfy constitutional qualifications, a couple of Hindus hopping a plane from the Punjab surely wasn't envisioned by the Founders.
Yes, Hindus. They don't believe in God, you know. Or they believe in too many gods. Or they don't care because they're too busy pestorking their cousins from previous lives. Really, they're worse than Mormons.
Oh, but Bobby's a Roman Catholic, haven't you heard? Or is that some sham to cover up his true beliefs until he takes the oath of office with his hand on the Kama Sutra?
I was raised in a strong Hindu culture, attended weekly pujas, or ceremonial rites, and read the Vedic scriptures. Though my prayers were a child's constant stream of requests and broken promises, Hinduism provided me with moral guidance and spiritual comfort.
That's Bobby in 1993, recounting his madrassa years, or whatever his godless/godstuffed religion calls them. He didn't convert to Catholicism until he was 16, and we all know what Jesuits and commies say about snaring them while they're young.
For that matter, this professed "Christian" doesn't have a Christian name. Bobby's birth certificate, Bobby's driver's license, Bobby's bank account, they're all registered to a "Piyush" Jindal, whom we suspect is a foreign agent acting covertly until somebody flashes him the Queen of Dhumavati. (The Hindu poker deck is stacked with Mahavidyas, which really makes it hard to count blackjack.)
On the other hand, if we take his conversion at his word, we're left with another problem: As a staunch anti-abortion Catholic, Jindal recognizes that life begins at conception. According to the timeline, that puts him back in the Punjab for the fateful pestorking session, which on our reading makes all the fuss over "natural born citizen" irrelevant. As constitutional scholar PDQ Bach says, "To curry favor, favor curry."
But we're generous, and we'd be willing to let all this slide, except for one unforgivable problem: Jindal's self-chosen nickname was inspired by Bobby Brady. We don't think America is ready for A Very Brady President.
Perspectives of an Indian Convert [America, 7/31/1993]
Hey, This Is Fun! [Stinque]
Add a Comment
Please
log in
to post a comment