Six More Random Things
Six more things pushing me towards that inevitable psychotic meltdown: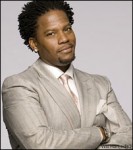 1) D.L. Hughley – I have never sought this person out.  On the few occasions when I've been watching CNN and he has appeared, he has not been funny.  Yet his entire job is to be funny.  Why does he have a show, much less a career?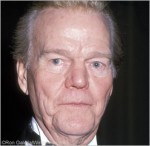 2) Paul Harvey – another "personality" I never sought out.  I had to listen to him when I worked at a pharmacy during high school.  He was then, and remained, a conservative windbag fond of making shit up.  Rush Limbaugh damages the country by screaming and pounding his widdle fat fist. Harvey damaged the country quietly, but just as profoundly.  Good riddance.
3) P Diddy: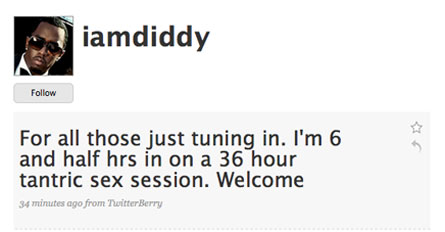 Did you really need to know that? Did you even want to?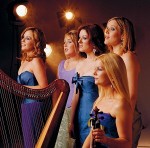 4) Celtic Woman – I am sick and fucking tired of this sort of Hibernian hooey.  You can add to that silly Scottish shit such as Highland Heartbeat.  Watch the video – I dare you.  It's fucking unwatchable. This sort of shit belongs in Branson. PBS is for Inspector Morse, Masterpiece Theater, and New Yankee Workshop.
5) Rick Santelli – and his fucking rant.  Which was, you know, planned.
What we discovered is that Santelli's "rant" was not at all spontaneous as his alleged fans claim, but rather it was a carefully-planned trigger for the anti-Obama campaign. In PR terms, his February 19th call for a "Chicago Tea Party" was the launch event of a carefully organized and sophisticated PR campaign, one in which Santelli served as a frontman, using the CNBC airwaves for publicity, for the some of the craziest and sleaziest rightwing oligarch clans this country has ever produced. Namely, the Koch family, the multibilllionaire owners of the largest private corporation in America, and funders of scores of rightwing thinktanks and advocacy groups, from the Cato Institute and Reason Magazine to FreedomWorks. The scion of the Koch family, Fred Koch, was a co-founder of the notorious extremist-rightwing John Birch Society.
The Kochs are out to get Obama, and it's going to make Scaife's War on the Clintons look like a fucking tea party.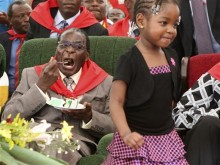 6) Robert Mugabe – his people are starving, dying, and he's celebrating his birthday?  I am not a fan of political assassinations, but this guy needs two in the hat.  It's amazing someone hasn't taken him out. (AP Photo/Tsvangirayi Mukwazhi)
The birthday celebrations come as Zimbabwe struggles with the world's highest inflation, food shortages and a cholera epidemic which the World Health Organisation says has killed 3,894 people since August last year.

There have been more than 84,000 reported cases, says the WHO.

More than half the population is believed to need food aid, while just 10% of adults have a regular job.
So my gentle snowflakes, what's pissing you off?
Add a Comment
Please
log in
to post a comment