Bobby Jindal Beseiged by Thetans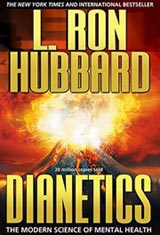 Before everyone got caught up comparing Bobby Jindal to Kenneth the Page (which leaves Michael Steele or Alan Keyes available to Tracy Morgan), his post-not-SOTU remark about "$140 million for something called 'volcano monitoring'" was poised to become Wacky Soundbite of the Night.
As a governor whose state fell victim to Bush incompetence natural disaster, his comment was sure to raise eyebrows. (Never mind that Jindal also said his state would be better off without Bush incompetence government assistance in a crisis — we don't have enough eyebrows for that.)
And since the only volcano in the news lately threatens the home state of Jindal's rival for 2012 buffoon the next GOP nomination, easy jokes were at hand, if only they hadn't been drowned out by easier jokes.
But apparently Alaskans aren't big 30 Rock fans, since they're not letting the matter drop.
"Volcano monitoring is a matter of life and death in Alaska," said Senator Mark Begich, who happens to be a Democrat.
"It is absolutely appropriate for our federal government to spend money on volcano monitoring," added fellow Senator Lisa Murkowski, who as a Republican probably spent an hour trying to figure out how to tell Jindal to go to hell in the nicest way possible.
The most pointed comment of all came from Governor Sarah Palin, who said — um, nothing. Perhaps she was busy signing up Bristol for remedial abstinence lessons.
Another detail that would have emerged if everyone wasn't talking about a fucking Jimmy Fallon talk show clip is that Jindal's "$140 million" only overstated the actual monitoring funding by a mere $126 million. Volcanos get just $14 million in the stimulus package — the rest of Jindal's price tag goes to USGS programs nationwide.
Add a Comment
Please
log in
to post a comment