We're Waiting.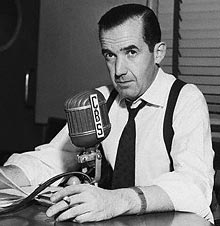 We enjoy WorldNetDaily because they provide a concise digest of Wingnut talking points — one-stop shopping for the idiocy du jour. Led by Joseph Farah, whose rug runner doesn't match his drapes, WND saves us the trouble of paying attention to Rush, Malkin, Fox, NRO, and the guy on the corner who shouts at us as we're driving to the coffeehouse.
Typical example: "gay" is always rendered in scarequotes. Gotta love 'em.
WND is still running polls and updates on Barry's birth certificate. And, flogging an issue that dumbfounded us a couple weeks back, they're still on the warpath against a federal policy that was dropped a generation ago: the Fairness Doctrine.
As you'll recall, that was the broadcast equal-time rule: If you give an hour to Michael Savage, you're obligated to resurrect Vladimir Lenin for an opposing viewpoint.
Despite an utter lack of anyone seriously proposing to disinter the Doctrine, schlock jocks have been frightening their listeners for months with the spectre of its return, with WND's blessing. So when one of Barry's rookie obfuscators got around to telling Fox on Wednesday that the Doctrine remains as dead as a serious television journalism, we were curious how WND would respond.
They haven't.
It's not like Fox buried the story: "President Obama opposes any move to bring back the so-called Fairness Doctrine, a spokesman told FOXNews.com Wednesday." Right there in the lead.
Which makes WND's top Thursday headline somewhat confusing: "Savage goes on offense in 'Fairness Doctrine' battle".
Not one mention of Obama in that story. Or Fox, for that matter.
Which disappoints us. We wouldn't expect WND to drop the issue, but we were looking forward to their artful squirming. Perhaps they're too preoccupied investing in dinars with that Bet on Iraq website they're pitching.
Add a Comment
Please
log in
to post a comment