Every Jerk You Take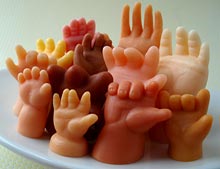 We've been amused for years by the tax-avoidance schemes of the wealthy, which largely consist of creative ways to tax the poor. A straightforward graduated income tax would work wonders, but of course that would have the same effect as consolidating credit-card debt: scaring the shit out of you.
So instead we scatter taxes all over the place, pretending it doesn't all come from the same wallets anyway, especially the thinnest.
And with state budgets bleeding red in the billions, state lawmakers are discovering a new untapped revenue stream, just around the curve from those wallets.
Ladies and gentlemen — well, gentlemen, mostly — welcome to the Porn Tax.
Politicians in California, Washington state, and New York have proposed variations on the theme, from a general tax on "digitally delivered entertainment services" (the "iPod tax"), to a stiff 25 percent markup on products and services "primarily oriented to an interest in sex".
Which would include nearly every consumer product in America, near as we can reckon, but we'll leave that to the regulators.
Opponents aren't going down without a fight, however. The most novel argument against a porn tax comes from NY Conservative Party Chairman Michael "We're not making this up" Long, who fears a poon penalty would "legitimize" smut:
"You're sending a message to children, and you're sending a message to teenagers: If you're taxing it, how can it be wrong? I don't know how you can sink much deeper."
We do, but it requires age-verification.
Yet for all the fantasizing about skimming a few shakes off the jerk, we fear such plans will shoot a blank: After all, if you pay for porn, you're not looking hard enough.
Image: Plastic Foliage
Add a Comment
Please
log in
to post a comment