Class War!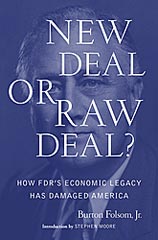 Title: New Deal or Raw Deal?: How FDR's Economic Legacy Has Damaged America
Author: Burton Folsom, Jr.
Rank: 23
Blurb: "In this shocking and groundbreaking new book, economic historian Burton W. Folsom exposes the idyllic legend of Franklin D. Roosevelt as a myth of epic proportions. With questionable moral character and a vendetta against the business elite, Roosevelt created New Deal programs marked by inconsistent planning, wasteful spending, and opportunity for political gain — ultimately elevating public opinion of his administration but falling flat in achieving the economic revitalization that America so desperately needed from the Great Depression."
Review: "A must read for anyone who wants to understand how America came to revere socialism over a free market."
Customers Also Bought: "Atlas Shrugged", by Ayn Rand
Footnote: Unemployment, 1933: 24.9%; 1937: 14.3%; 1981: 7.5%; 1993: 7.3%; 2001: 4.2%; 2009: 7.6%.
Buy or Die [Stinque@Amazon kickback link]
Add a Comment
Please
log in
to post a comment