Our Chief Weapon is Surprise. Surprise and Fear.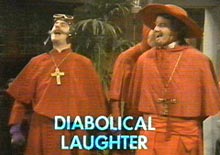 Today's installment of DisappointmentWatch involves the Office of Inquisition Faith-Based Initiatives, one of Shrub's notable efforts to trim the Bill of Rights from the top.
You'll recall that Candidate Barry didn't have a problem with the office as such — and neither did we, not if it was retrofitted to serve its stated purpose instead of providing fundie pork:
"If you get a federal grant, you can't use that grant money to proselytize to the people you help, and you can't discriminate against them — or against the people you hire — on the basis of their religion."
That was Barry last July. And here it is February already! Guess what?
Yup. Amid Thursday's rechristening of the New! Improved! Office of Jesus and Friends Faith-Based and Neighborhood Partnerships, that pesky detail failed to surface.
Instead, explains rookie White House obfuscator Jennifer Psaki, the Administration reserves the right to review a given grant — no need for a flat ban on discrimination, what with "a mechanism to address difficult legal issues."
We thought we had one. Perhaps we should send Nic Cage to find it.
But our favorite part of the LA Times story is this bit of unsourced background:
Supporters of the policy argued that a small Christian organization, for example, could not operate according to its ideals if it were forced to hire non-Christians.
Forced? Folks, if you really require doctrinal purity in your social-services program, you're welcome to leave our tax dollars on the table. Lord knows we could use the extra cash to fund those BofA field trips.
Add a Comment
Please
log in
to post a comment